Port Royal Castle Makes Big Waves with Most Expensive Naples MLS Listing
Posted:
The most expensive home to ever list (if it goes for the asking price) in the Naples' Multiple Listing Service (MLS) is now on the market for a colossal $49 million, according to this article from the Naples Daily News.
James McCready's 14,678-square-foot Port Royal mansion, located at 1832 Galleon Drive, has five-bedrooms, 10 baths and an expansive view of Buccaneer Cove.
"The view is huge," said listing broker Dick Bolen.
The Palm Beach style of Addison Mizner flows throughout the 2.58-acre home which sits on four adjoining lots, justifying the "nosebleed" price tag, according to Bolen.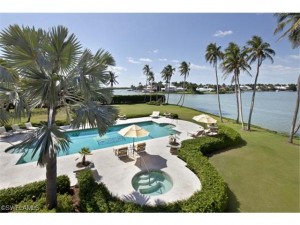 They Say your Home is your Castle
And this castle took 100 workers two years to complete.
The home boasts a boat dock, separate pond, putting green, outdoor kitchen and custom ornamental tile-work and wrought iron railings.
But McCready Wants to Downsize
McCready, who is the chairman of the Cypress Cos., an Akron, Ohio-based private investment firm specializing in the industrial sector, still plans to stay in the area.
The Price Probably Won't Raise Eyebrows
Naples luxury broker Nancy MacDonald, said the home's $49 million asking price probably won't raise eyebrows among the international, moneyed clientele currently looking for homes in posh Port Royal.
"It's worth whatever the market will bear," she said, adding whoever buys it will probably do with cash.
"We're getting up there with the Miami numbers," she said.
And Patricia Pitocchi, chairman of the Naples Area Board of Realtors, agreed.
"The $2 million and up category is very strong," she said.
Big Prices Aren't Uncommon in Naples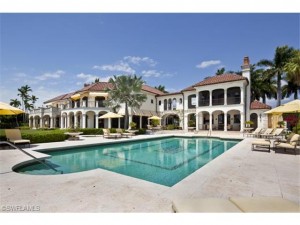 According to NABOR statistics, the median closed price rose 5 percent to $2.95 million over the past year. There were also 298 closed sales in the category, a 27 percent rise year-over-year.
Before McGready's castle, the highest sales price of a home in Naples was on March 15, 2012, when 3100 Gordon Drive was sold to the Randal D. Bellestri Living Trust for a cool $47.3 million.
But two other Port Royal homes will probably top McGready's $49 million asking price.
Though they are not listed on the MLS, the homes are on the market for $55 million and $75 million, according to several brokers in the area.
The homes are discretely being marketed among high-end brokers with wealthy clients.
Bolen said he knew about the listings, but declined to identify them.
When agents quietly sell homes like that, they are called pocket listings. And these kinds of listings are very popular in the area.
We'll keep you posted on McGready's castle.
What do you think about the luxury digs?